Global Studies Doctoral Program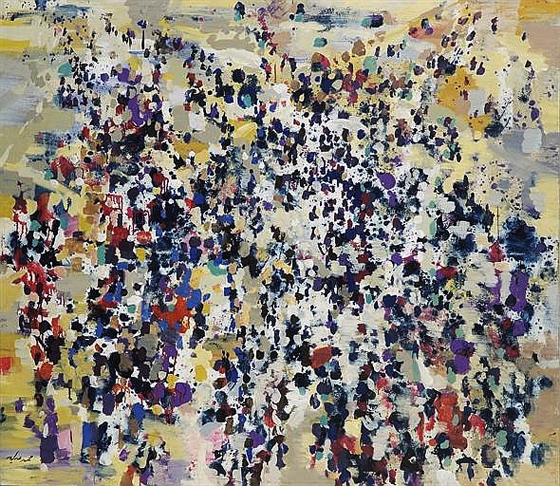 Picture of the artist Mohamed Abla
Globalization has shrunk the distance between elites, shifted key relations between producers and consumers, broken many links between labor and family life, obscured the lines between temporary locales and imaginary national attachments […]. Globalization does not necessarily or even frequently imply homogenization […] there is still ample room for the deep study of specific geographies, histories, and languages.
– Arjun Appadurai
Global Studies
The Global Studies Doctoral Program of the Graduate School of the Humanities (GSH) at the Walter Benjamin Kolleg of the University of Bern represents a unique opportunity in Switzerland and in Europe for obtaining a doctoral degree in a well-structured academic context that promotes a common discussion about global processes from a humanities perspective. Global Studies, a relatively new interdisciplinary field of study with rapidly increasing visibility, critically examines global phenomena shaping past or contemporary life all over the world. To a greater extent, it is interested in the ways in which transnational interactions and exchange, circulations, migratory movements and flows of human beings, information and goods, continually challenge geographical, political, and/or linguistic borders. Thus, it is concerned with processes and structures exemplifying both global and local complexities which it tries to address by, for example, studying the exchange and interdependencies between different cultural, political, linguistic, ethnic, and religious groups, communities, governmental and non-governmental institutions, media as well as real or imaginary spaces.
As an interdisciplinary approach is key to understanding the implications of global processes both past and present, we invite international doctoral students from a wide range of disciplines and academic backgrounds to apply for membership in the Global Studies Doctoral Program. The program offers an interdisciplinary platform for the exchange and dialogue with other doctoral students, members of our faculty, as well as international experts and researchers. Most importantly, the program encourages and assists you in building up a personalized academic network which allows you to discuss questions related to your specific doctoral research project in light of concepts and theories of global studies.
Networking possibilities even go beyond the framework of the Global Studies Doctoral Program, as any Ph.D. candidate enrolled in the program simultaneously becomes a member of the Graduate School of the Humanities (GSH) at the Walter Benjamin Kolleg of the University of Bern. Regular joint events of the GSH offer the opportunity to meet with and have a fruitful exchange with peers from the Graduate School's other doctoral programs, Study of Language and Society and Interdisciplinary Cultural Studies. For more information about the GSH, click here.
The Global Studies Doctoral Program– an offer to all doctoral students…
working on a topic that relates to questions about social, cultural or political global processes.
looking for an interdisciplinary environment to share and discuss their doctoral research projects.
wanting to further develop and strengthen their skills in networking, research organization, and presentation with regards to their individual doctoral research projects.
in need of some (limited) financial support for their research activities (see also Financial Support).
Credits and skills acquired in the framework of the interdisciplinary Global Studies Doctoral Program are listed in a Diploma Supplement, which will be handed out along with the doctoral degree certificate.
Applications are possible every term. Please find further details about the application process here and also have a close look at our specifications regarding requirements.